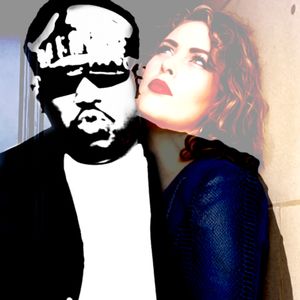 With the video releasing in the US on the 1st January 2017, Manka Productions thought an interview with LAOH was in order. 
---

1) How did you and Lyzee meet? 
Lyzee discovered my music via a music forum online. We started chatting and BOOM! 
2) What inspired you to write 'Lace Up'?  
I just felt like, personally I had been through a lot and I wanted to give those experiences a voice. I had been homeless, etc...And before that, I had been in a financial bind and asked people for help and a friend brazenly turned their back on me and my wife saying that we had put ourselves in that situation but they really had no idea what was going on. They were just going off of what that had seen on facebook. And that was very hurtful. 
3) If you had to explain lace up in 3 words what would they be? 
Real ass music (laughing) 
 
4) There's a video on its way, tell us a little about that. 
Fun video to shoot indeed. I'm really excited to see the final product and share it with the fans. This will be the first time in a long time that I will be collaborating on a video with someone, let alone someone on the other side of the world. I did my filming in Washington, DC and Maryland. Lyzee did her shots in Australia. It took a few days to get all the shots we needed but you guys (Manka Productions) are doing an amazing job with what I have seen of the edit so far. Really cannot wait to get it out there! 
5) What's next for you and Lyzee? 
Hmmmm Idk. Maybe another song. Maybe quite a few more songs. Beyond the music, she's become a really good friend and we both love each other's work so who knows. Ultimate goal? A Lyzee/Lost Angel of Havik live show! Yeah. That'd be totally bad ass.
 
---

The music video will be viewable at Manka Productions and the YouTube channel Lost Angel of Havik.

Click here to hear 'Lace Up' now!